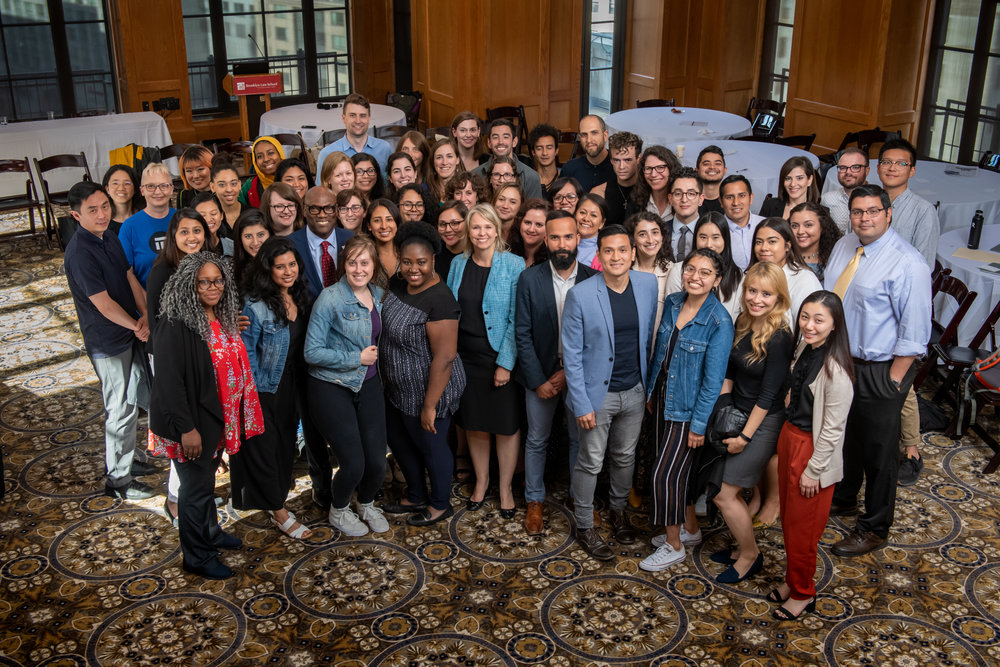 About IJC
The first and only fellowship of its kind, Immigrant Justice Corps (IJC) identifies promising lawyers and advocates passionate about immigration, places them with legal services and community-based organizations where they can make the greatest difference and supports them with training and expert insights as they directly assist immigrants in need.
Quality counsel changes everything.
For immigrants facing the threat of deportation or pursuing lawful status and citizenship, quality legal representation can make all the difference. Founded from direct experience with the systemic failings of our broken and outdated immigration system, Immigrant Justice Corps mobilizes quality counsel to meet the needs of immigrants nationwide.
Unlike criminal and family court proceedings, immigrants facing deportation in immigration court do not have a right to counsel if they cannot afford one. Without counsel, most immigrants face a complex and adversarial system alone. Those with representation are six times more likely to see a successful outcome. IJC's free counsel has delivered a 93% success rate in completed cases, in contrast to a 16% success rate when an immigrant is without counsel, and a 3% success rate when a detained immigrant is without counsel.
As we work to help thousands of individuals in need each year, IJC is developing the next generation of immigration lawyers and advocates and the shared knowledge of our growing coalition. Together, we represent access to justice, hope for the future, and the courage to stand up for immigrants' rights.
Our Mission
IJC's mission is to recruit, train, and populate the immigration field with the highest quality legal advocates to create a new generation of leaders with a lifelong commitment to immigrant justice.
Our Story
Immigrant Justice Corps is the visionary idea of the late Judge Robert Katzmann of the U.S. Court of Appeals for the Second Circuit, as a response to the crisis in legal representation for immigrants he saw every day as a federal judge. In 2007, he gave a lecture at the New York City Bar calling on the legal community to help address the problem, leading to the creation of the Study Group on Immigrant Representation. In 2010, he spearheaded the group's New York Immigrant Representation Study to better understand the issue. This report revealed some startling facts about access to counsel for immigrants.
Legal services are in short supply. In New York City, 60% of detained immigrants facing deportation did not have attorneys by the time their cases were completed. Further, an estimated 40% of undocumented children were eligible for legal immigration status under current law, but too few had legal counsel to help them access those opportunities.
Immigration judges ranked nearly half of the lawyers appearing before them as "inadequate" or "grossly inadequate."
Legal services have a real impact. Individuals facing deportation who are not detained are successful in their cases 74% of the time when they have counsel, and only 13% of the time when they don't.
These findings inspired Judge Katzmann to find a solution.
With the substantial support of The Robin Hood Foundation a process was created to develop Immigrant Justice Corps. IJC was designed through extensive research and consultation with experts across the legal field. For advice, Robin Hood contracted with a team of consultants, including Professor Peter Markowitz of Cardozo Law School, Nisha Agarwal, then of Make the Road, NY, and David Stern, Executive Director of Equal Justice Works. An Advisory Council of leading lawyers also provided input.
Immigrant Justice Corps was launched in January 2014, with its first class of Fellows entering in September 2014. The original IJC board of directors consisted of William D. Zabel (chair), the late Robert Morgenthau, and the late Judge Robert A. Katzmann, IJC's founder.
Special Projects
IJC is committed to addressing unique geographic needs and changing immigration policies by using innovative models.
Access to Counsel Initiative
In February 2020, IJC announced a two-year Access to Counsel Initiative in partnership with the Capital Area Immigrants' Rights (CAIR) Coalition that will provide merits blind universal representation to all Prince George's County, Maryland residents detained in immigration custody, significantly expanding access to lifesaving representation in the area.
Long Island Project
Unlike New York City, immigrants on Long Island lack access to competent legal representation in Immigration Court. In September 2015, following an unprecedented influx of thousands of Central American children and families, facing deportation, into Long Island, IJC responded by partnering with the Central American Refugee Center (CARECEN) in Hempstead to launch the Long Island Project. This long-term collaboration seeks to bolster the pool of high-quality immigration lawyers and advocates serving immigrants in Nassau and Suffolk County.
Center for Immigrant Representation
In October 2018, IJC launched the low bono practice, Center for Immigrant Representation in Jersey City, New Jersey. The Center offers high quality legal services to immigrants with incomes that make them ineligible for pro bono services. The Center meets demand for representation in under-served locations, trains committed young attorneys and legal representatives to run a high-quality private practice, and develops a sustainable, replicable business model based on reasonable fees and exceptional management.
Rapid Response
Since inception, Immigrant Justice Corps has defended immigrants in desperate need of a lawyer, often on a crisis basis. When our government has moved to inhumanely deter immigration through large-scale breaches of due process, we have supported groundswell legal responses to bring justice to harmful policies. Since 2015, our rapid response trips have taken Fellows to detention centers in Texas and to border-rights work in Tijuana, Mexico.