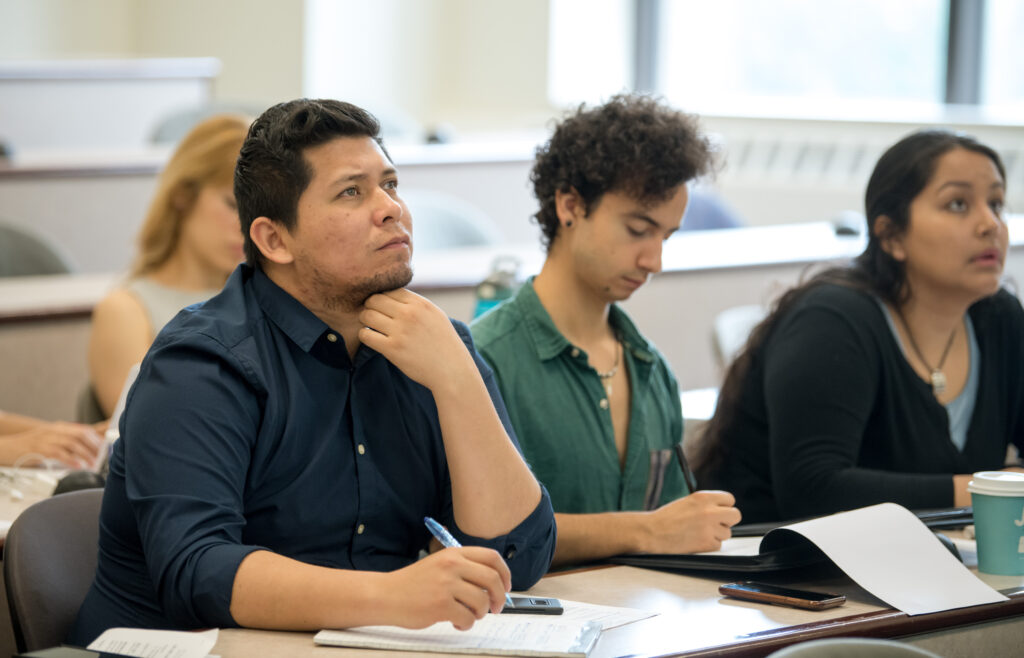 FAQs: Community Fellowships
Application Timeline
January – Applications open for the next class of Community Fellows.
Late March – Applications close.
Early April March – A diverse selection committee of stakeholders gathers to review all Community Fellow applications.
Mid April – IJC Staff reviews applications recommended by the selection committee and schedules interviews with prospective Fellows.
Late April – IJC will select a group of finalist Community Fellow applicants and host organizations and seek input from both parties on their matching preferences.
Early May – Offer letters, which include the proposed host organization placement, are sent.
September – The new class of Community Fellows begin their fellowship.
Does it matter what language other than English I speak?
We require Community Fellow applicants to speak a language in addition to English. The languages that are in highest demand are Spanish, Arabic, Mandarin, Cantonese, Korean, Haitian Creole, and French.
How does the application process work for Community Fellows?
There is an online application for Community Fellows. Applicants must submit a resume, transcript, two letters of recommendation, write a Statement of Interest, and answer an essay question. Selected applicants will be interviewed and selected in the spring.
Am I an employee of IJC or of the host organization?
Some of our Community Fellows are "in-placed" which means that they are employees of IJC and work four days a week at a community-based organization and one day a week at IJC headquarters where they receive supervision from IJC attorneys. Other Community Fellows are "out-placed" which means they become employees of their host organizations and receive supervision directly from legal staff at their host organizations.
What are Community Fellow salaries?
First and Second Year Community Fellows (host placement outside NY): $45,000
First Year Community Fellows (host placement in NY): $47,000
Second Year Community Fellows (host placement in NY): $49,000
Third Year Community Fellows (host placement in NY): $49,500
Will I have an opportunity to work with IJC outside of my host organization if I am "out-placed"?
Yes! IJC hosts monthly training for all Fellows, in addition to clinics, social gatherings, and professional events for Fellows. A primary purpose of IJC is to expand access to counsel. Therefore, if there is an emerging critical legal need, we may mobilize Fellows to respond. For example, in the past we have sent Fellows to Texas and Tijuana, Mexico to represent detained families and asylum seekers.
Will Immigrant Justice Corps sponsor me for a green card or skilled worker visa?
No. All Fellows must be eligible for work authorization in the U.S. for the full two years of the fellowship. Applicants with DACA are welcome to apply.
If chosen, may I defer?
No. Fellows who are selected must be ready to start the program in September.
Do I need to submit an official transcript?
No. Please upload a pdf of a school-issued transcript.
Can my resume be more than one page?
Yes, though please limit yourself to two pages.
Will I be placed outside New York City?
Maybe. The majority of our Community Fellows are placed within New York City but we also have Community Fellows in Texas, Connecticut, and Baltimore/DC area.
What kinds of things do Community Fellows do after the Fellowship?
Many of our Community Fellows become Fellows because they want to go to law school and gain practical experience before doing so. The fellowship is also an excellent way to decide whether a career in law is really your passion. In addition to law school, Community Fellows have gone on to attend other graduate schools and continue working as legal advocates in immigration and other areas of law.