Long Island has quickly entered the national conversation on immigration reform. Unlike their counterparts in New York City, immigrants on Long Island have long suffered from disparate access to legal representation at the New York immigration court.
That is why in September 2015, following an unprecedented number of Central American immigrants arriving on Long Island, IJC responded by partnering with the Central American Refugee Center (CARECEN) to help meet the urgent need for quality immigrant representation in Nassau and Suffolk counties.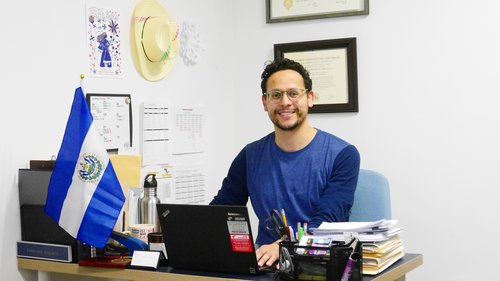 In 2018, this partnership gave birth to the Long Island Project, a long-term collaboration between IJC and CARECEN to bolster Long Island's pool of high-quality immigration lawyers and advocates.
The Long Island Project team is made up of Justice Fellows, Community Fellows, a Staff Attorney from CARECEN, and a Supervising Attorney all working to increase CARECEN's ability to litigate complex deportation cases in defense of Central American families. Because most of their clients have experienced some level of trauma or require help accessing vital services, a Social Worker is scheduled to join their interdisciplinary team.
The need on Long Island is crystal clear. Justice Fellow Emily Echeverria explains, "Long Island is ground zero. Often when you think about pro bono legal services you think New York has so many, but it's only in the city. There is an influx of Central American immigrants and it's growing. There is dire need for legal representation here."
For the Fellows, being placed in Long Island is personal. For Justice Fellow Emerson Argueta it's been a homecoming. "I grew up in Long Island and I lived two towns over from this office. To me it's the perfect calling because I'm part of this community, I identify with this community."
The Fellows feel a deep connection to the clients they serve. Their own immigrant backgrounds help them identify with and build relationships with the community. "We can even use the same slang as our clients. It helps them feel understood," said Emerson.
Justice Fellow Diana Ricaurte said that when she joined IJC her goal was to help people and make a change. "And in the couple of months we've been here we've really impacted people's lives," she said.
Their dedication and passion is clear and has yielded impressive results. In seven months, and in partnership with the rest of CARECEN's legal staff, the Long Island Project has provided consultations to more than 300 individuals and accepted 125 individuals for full representation. Most importantly, this partnership has also offered the Long Island community a new source of holistic defense against the anti-immigrant rhetoric from Washington.
A new model
Since its launch in September, the Project has enhanced the removal defense of children and families on Long Island by prioritizing cases based on the person's vulnerability to actual deportation. Supervising Attorney Harold Solis said the project's model "represents a very focused approach to a very specific problem. We are here to help this community and we are here to stop deportations."
"When we put it that plainly it allows us to be more clear-eyed about who needs help right now, who needs representation right now, without having to unfairly pre-judge the merits of a person's case in a system that has become highly unpredictable. This is where we can make the most impact," he added.
Using this model has meant that about 42% of cases accepted for full legal representation, include a child or family already ordered deported or scheduled for a final trial in their removal case. It also includes cases of children who need legal representation to ensure they obtain relief from deportation before they are 21 years old.
By prioritizing cases this way, the Project has been able to triage the remaining 58% of intakes to address less urgent needs, including conducting self-help community workshops where families can learn more about their removal proceedings and assisting them to complete their asylum applications. Third-year Community Fellow Geovanni Gutierrez Vivar helps lead on processing these intakes.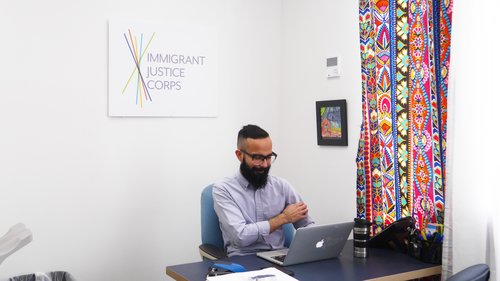 While the team has made huge strides in the community, immigrants continue to face unprecedented hostility from the federal government. Faced with hateful rhetoric against the immigrant community, Emily said their clients are what keep them motivated. "They are so resilient. They always push forward, no matter what they have gone through they still have hope. It's infectious. We don't give up either. We learned that from our clients."
The Fellows are grateful to be part of something built from scratch. "It feels like we are beginning our own practice," said Emerson. "Once the Fellowship is over we can carry that experience forward and feel equipped to build something else from the ground up, and in the immigration world there's a lot of need for that."
The Fellows agree they have learned so much and still have a lot to learn. "Every day is like being in an emergency room. But it has benefits from a Fellowship standpoint because our Fellows are learning so quickly by being exposed to so many difficult cases," said Harold.
Despite the challenges, the Fellows' commitment is unwavering. "I couldn't imagine starting my professional career anywhere else," said Emily.
Though only seven months have passed since the Long Island Project was launched, IJC is proud to report on the impact made in the lives of so many vulnerable immigrant families and children.
Your generous support makes initiatives like The Long Island Project possible. A donation to Immigrant Justice Corps ensures we can continue to provide legal representation to communities with the most need.