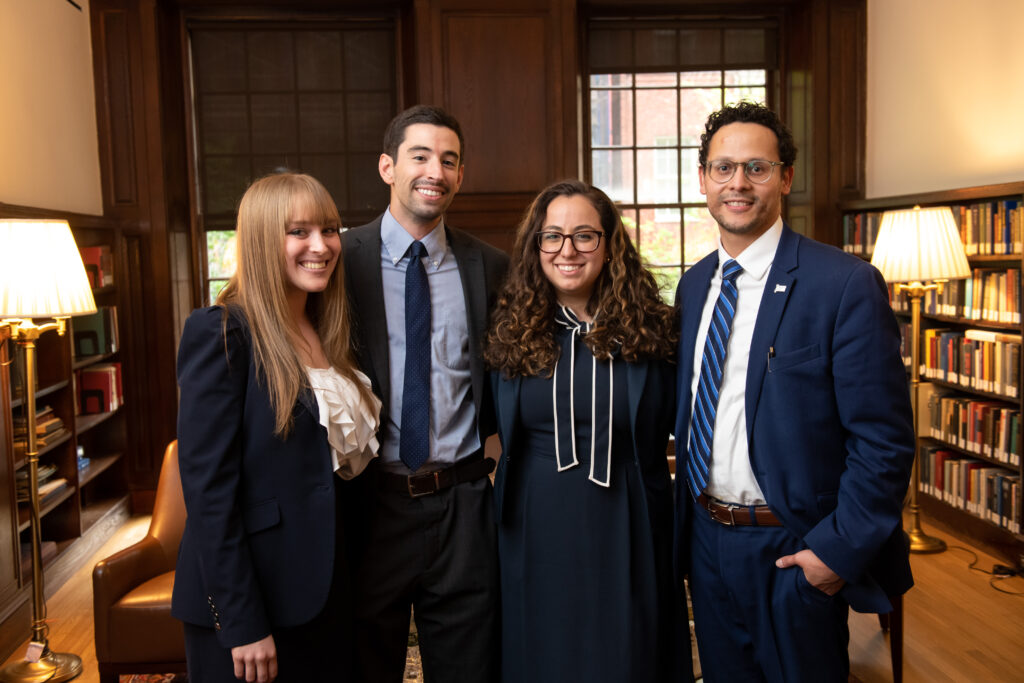 Justice Fellowship
The first and only fellowship of its kind, IJC's Justice Fellowship identifies promising lawyers who are passionate about immigrants' rights, places them with organizations where they can make the greatest difference and supports them with training and expert insights as they directly assist immigrants in need.
Defining our future.
Defending immigrants' rights.
Two-year Justice Fellowships are awarded to recent law graduates from around the country – individuals with tremendous talent, promise, and a demonstrated commitment to providing immigration legal services.
IJC matches Fellow candidates with our partnering host organizations based on the applicant's experience and preference, gaps in services within the community, and particularized host organization needs.
Because our Fellows are placed at many different partnering host organizations, their experiences are almost entirely unique. Our host organizations' practices span the gamut of immigration law specialties, serving an array of communities, working in a range of geographies, and focusing on niche areas of the law. Throughout the fellowship, Justice Fellows provide a broad range of aid to their clients – from removal defense, to affirmative asylum applications to securing special relief for juveniles and victims of crime, domestic violence or human trafficking.
In addition to our Justice Fellowship program of 30-35 fellows per year, we are expanding our footprint to meet the urgent need for legal representation. IJC recently partnered with the Vera Institute of Justice and Acacia Center for Justice to place an additional 200 Justice Fellows with Vera and Acacia's network of legal service providers across the country as part of Vera's Unaccompanied Children Program and IJC's network of providers. This new IJC Unaccompanied Children Program will begin in September 2023. There is high demand for Justice Fellows to provide quality legal services to unaccompanied children in removal proceedings. Applicants with an interest in preserving the rights of migrant children are strongly encouraged to apply.
IJC Fellows serve for two years and are provided with a full salary and benefits.
Immigrant Justice Corps seeks Fellows who are smart, compassionate, and passionate about justice for immigrants. Additionally, we seek Fellows dedicated to participation in a fellowship program – you give us two years of hard work and we will make sure you will be immersed in immigration law and helping others who likely would not have had an attorney otherwise.
Eligibility
Applicants may currently be enrolled in a JD or LLM program, so long as they will be graduating law school by the Spring of the Fellowship start year. For example, if you graduate in Spring 2024 you will be eligible to apply to the Class of 2024.
Applicants may have graduated from a JD or LLM program up to two years prior to the start of the Fellowship.
Almost all IJC Fellows speak a second language in addition to English, though this is not a requirement to apply.
Spanish fluency is strongly preferred for Justice Fellows working with unaccompanied migrant children. Spanish language support – including interpreters, immersion, and language courses – will be provided to applicants who are working toward Spanish fluency.
Application timeline and common questions about the Justice Fellowships
Learn about the experience and work of this year's Fellows
Potential placements around the country
---
Our Matching Process
Unlike other Fellowships, IJC recruits both Fellows and host organizations.
IJC matches selected Fellows with our partnering host organizations based on the applicant's experience and interest, gaps in services within the community, location preferences, and partnering host organizations' needs.
Media Coverage
IJC is thrilled to announce our ninth class of Justice Fellows. Selected for their passion, talent, and commitment to immigrants' rights, the 2022 Fellows will bring their many skills to bear on the acute legal representation crisis in immigration.
Read More
Justice Fellow grads now practicing in the immigration field.
Immigration matters handled by Justice Fellows to date.
Success rate in the cases that Justice Fellows take on.
Building Community
Each IJC Fellow forms a crucial link in an expansive web of advocates across the country. When you join IJC, you become connected to your cohort, our staff, alumni, and host organizations.
Right to Counsel
The very existence of IJC has raised awareness of both the crisis of representation and the dramatic difference representation makes in immigration cases. Through our fellowship programs, IJC seeks to close the gap in access to representation and move the needle toward a universal right to counsel for all immigrants. As a Fellow, you will be a part of that effort to ensure every immigrant in the United States has access to quality counsel.
Training & Skills Development
IJC offers high quality, on-going training and skills development. Fellows foster lifelong professional connections during the program and build skills they will draw on for the remainder of their career as an immigration advocate.
Expanding Capacity
IJC focuses on efficiently increasing representation by placing Fellows with host organizations that are leading non-profit legal services providers and community-based organizations.
Creating Access to Justice
IJC expands access to justice for underrepresented communities while advocating quality representation for these populations.