Since inception, Immigrant Justice Corps has defended immigrants in desperate need of a lawyer, often on a crisis basis. When our government has moved to inhumanely deter immigration through large-scale breaches of due process, we have supported groundswell legal responses to bring justice to harmful policies.
Currently, our federal government is forcing thousands of migrants fleeing persecution, many of whom are families and unaccompanied youth, to wait for weeks at the southern border only to be summarily processed through a port of entry, then corralled into indefinite detention. Worse yet, many are returned to Mexico after cursory assessment to await a hearing before a U.S. immigration judge. The latter practice is called the Migrant Protection Protocol/Remain in Mexico policy. The former policy bears no name. Both efforts have resulted in incalculable harm and misery to immigrants fleeing gang and domestic violence, extortion, and sexual assault.
In February 2019, as an initial response to this humanitarian crisis, we sent a team of six Justice and Community Fellows and an IJC staff member to Tijuana, Mexico to volunteer at Al Otro Lado, a bi-national direct legal services organization.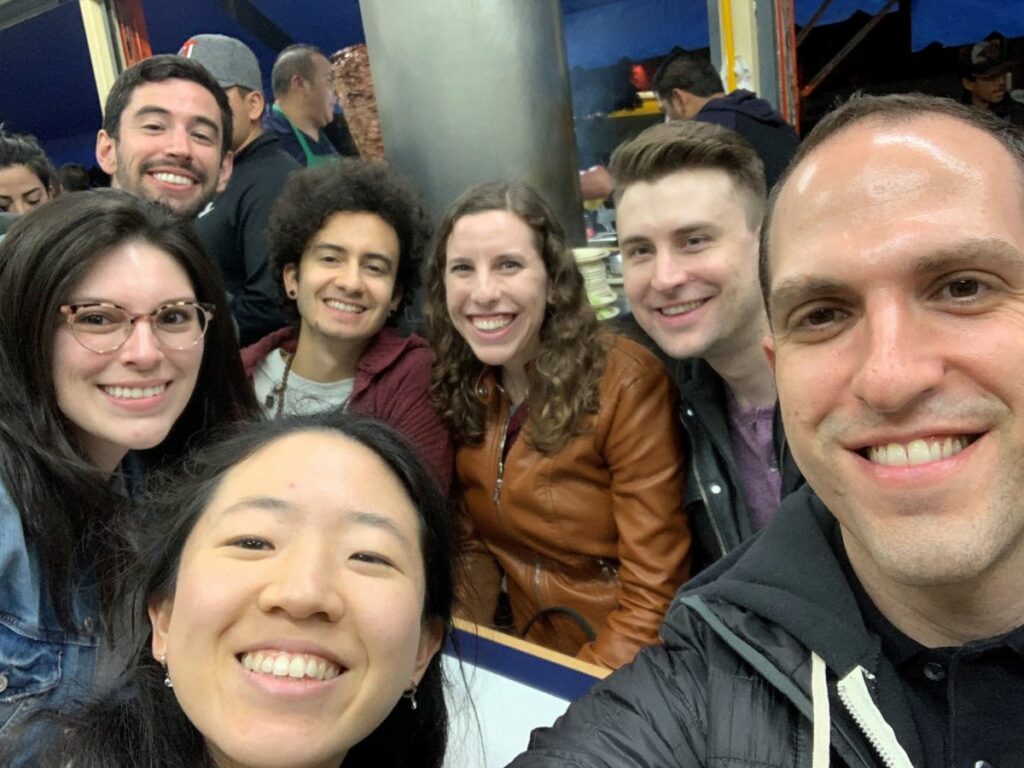 The team spent a week assisting asylum seekers: preparing people for credible fear interviews during which they can explain why they fear return to their home countries and the results of which dictate whether they will be able to remain in the U.S. to fight their cases, leading Know Your Rights (KYR) presentations, and consulting on individual cases. Together the team assisted nearly 100 asylum seekers individually and hosted six Know Your Rights sessions for 118 attendees.

Every week, Al Otro Lado has new volunteers join them. However, only a small portion of their volunteers are immigration lawyers or Department of Justice (DOJ) accredited representatives. Even fewer have direct experience working on asylum claims. As immigration lawyers and advocates, the IJC team was uniquely qualified to support Al Otro Lado's mission, all in their own unique ways.
Second year Community Fellow Jonathon Burne, who is fluent in Arabic, supported a group of migrants from Yemen who hadn't encountered an Arabic speaking person in three months. Ryan Clough, a second year Justice Fellow who works predominantly with detained asylum seekers from Central America at his host organization RAICES in Texas, shared his intimate knowledge of both detention and the asylum process with the individuals he served in Tijuana.
The IJC Fellows also provided last-minute aid and support to migrants seeking entry through El Chaparral, the port of entry on the Mexican side of the San Ysidro (San Diego) crossing. When our team was in Tijuana, there were approximately 3,000 individuals, each of whom had been given a handwritten number on a slip of paper no larger than a thumbnail, waiting to be called for processing at El Chaparral. Every day, the numbers announced from a list dictate who will be allowed to cross into the U.S. and enter the custody of Customs and Border Protection (CBP). This practice, known as "metering", strictly limits the number of asylum seekers who are allowed to cross into the U.S. each day. CBP claims that they have no choice but to reduce the flow of migrants to a trickle due to a lack of resources. We see these efforts as yet another ill-intentioned way to deter migrants from seeking much-needed sanctuary.
At El Chaparral, our Fellows offered advice and orientation around the immigration law and processes the migrants were about to undergo. It's important that migrants allowed to cross are prepared to share all the critical information they have about why they are fleeing and who and what they fear, even while detained in an incredibly stressful environment. Then there are the practical advisals: wear your warmest garment closest to your skin, because you will be held in a freezing holding cell for several days; beware that family separation continues, and as a small precaution we encourage you to scribble your vital information on your child's forearm with a Sharpie. Not surprisingly, most people our team spoke to were in a state of heightened shock and anxiety.
Bearing witness to what is happening at the border is shocking and provides new perspective to lawyers and advocates about the immensity of our work. IJC's presence on the ground provided direct legal services but also exposed Fellows to legal representation centered around community intervention in the face of a crisis, and in the process, offered Fellows an opportunity to expand their concept of what legal representation means. For many, it reaffirmed their desire to continue a career in immigration.
The situation at the border remains dire, especially for minors. Disturbingly, for the last several months Unaccompanied Alien Children (UACs) have been barred from entering the U.S. to seek humanitarian relief and their situation remains tenuous. If encountered by Mexican authorities, they are routinely arrested and deported from Mexico. Those that stay in Mexico often face abuse and harassment by authorities.
We will continue to keep you updated on these damaging policies that restrict the availability of asylum and needlessly place the lives of countless asylum seekers at risk.