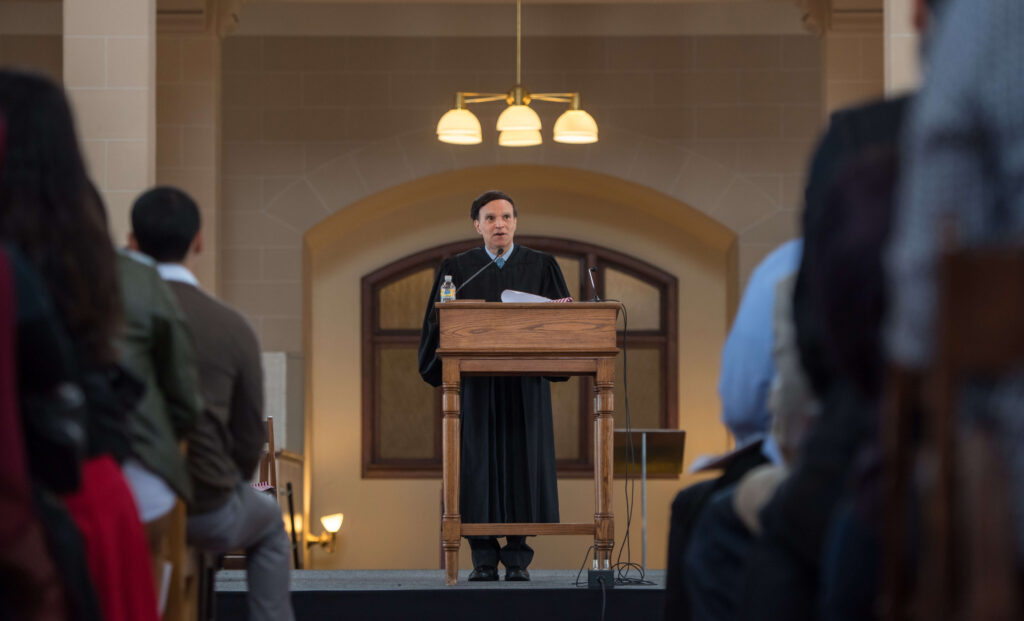 Our visionary leader
Through a rare combination of vision, experience, practicality, and compassion, the late Judge Robert A. Katzmann of the U.S. Court of Appeals for the Second Circuit helped transform representation for immigrants forced to defend themselves against deportation without legal counsel.



The Robert A. Katzmann Legacy Fund
"The importance of quality representation is especially acute to immigrants, a vulnerable population who come to this country searching for a better life, and who often arrive unfamiliar with our language and culture, in economic deprivation and in fear. In immigration matters, so much is at stake — the right to remain in this country, to reunite a family, or to work."
The Honorable Robert A. Katzmann, in Aris v. Mukasey, 517 F.3d 595, 600 (2d Cir. 2008)
Immigrants' need for counsel is greater than ever: at this moment, there are nearly 2 million immigrants in removal proceedings nationwide, almost 700,000 of whom do not have representation. Without a lawyer, an immigrant has virtually no chance of prevailing. The result: families torn apart, thwarted potential, and a betrayal of our country's commitment to justice for all.
The harm that the lack of legal counsel has on immigrants and their families was of primary concern to the late Judge Robert A. Katzmann He saw a crisis in legal representation, gave a ground-breaking lecture in 2007, led a study group to find solutions to the crisis, and realized his vision of a legal organization modeled as a fellowship program that would ensure the effective representation of immigrants in need.
Immigrant Justice Corps (IJC) is that vision: the first and only fellowship of its kind focused on the legal representation of low-income immigrants. IJC opened its doors in 2014 and, since then, our Fellows have had astonishing successes, collectively assisting over 96,000 immigrants and their families with a success rate of 93% in adjudicated cases. In June 2021, Judge Katzmann passed away. In January 2022, with the help of Judge Katzmann's family and colleagues, IJC's Board launched the Robert A. Katzmann Legacy Fund in his honor to ensure Immigrant Justice Corps' longevity, enabling Judge Katzmann's legacy to live on through our Fellows' work as we strive towards achieving his dream of the right to quality counsel for all immigrants.
Since then, nearly a third of our $15 million goal has been raised. We are deeply moved by our donors' generosity and dedication to Judge Katzmann's life's work, which has brought to life projects that would otherwise be out of reach.
With these funds, IJC quickly deployed three Justice Fellows and three Community Fellows to underserved communities in New York and California where immigrants' need for legal representation is the greatest. We are responding to emerging needs, innovating service delivery models, collecting meaningful data, strengthening mental health supports, and advocating for a humane and just immigration system. Your support of the Robert A. Katzmann Legacy Fund is giving IJC the opportunity to achieve more for our Fellows, their clients, our host organization partners, and future generations who will benefit from Judge Katzmann's compassionate vision.
To all of the Robert A. Katzmann Legacy Fund donors and those who advocate for IJC's mission, thank you. As Judge Katzmann and his father would say: we wish for you all the things you wish for yourself and more. Because of you, we are seeing Judge Katzmann's dream of universal representation becoming reality, for which we are ever grateful. 
Help us achieve Judge Katzmann's goal of providing quality counsel to every immigrant at risk of deportation.
Judge Katzmann's father was a refugee from Nazi persecution and his mother a Brooklyn-born child of Russian immigrants. They brought their children up in Queens, where Judge Katzmann, born in New York City, and his siblings attended public schools. An astonishing student, at age 20 Judge Katzmann received his undergraduate degree summa cum laude from Columbia University. He then studied government at Harvard University, with Daniel Patrick Moynihan and James Q. Wilson, and received his Ph.D. from Harvard, after which he went to Yale Law School, where he was an Article and Book Review Editor of the Yale Law Journal. A clerkship on the United States Court of Appeals for the First Circuit followed his J.D.
After his clerkship, he worked at the Brookings Institute, as a research associate, senior fellow, visiting fellow, and acting program director. Professor Katzmann studied courts and Congress, and taught law and government at Georgetown. He was the first Walsh Professor of Government, Law, and Public Policy. Among the books he wrote and published are The Law Firm and the Public Good and Courts and Congress. He served as pro bono counsel to Senator Daniel Patrick Moynihan and Ruth Bader Ginsburg on the latter's Supreme Court confirmation process. In 1999, President Bill Clinton nominated then-Professor Katzmann to the United States Court of Appeals for the Second Circuit. Professor Katzmann received a "well-qualified" rating by the American Bar Association and was confirmed by the Senate in a voice vote. After Katzmann's confirmation, in July 1999, Senator Moynihan recorded a statement on the floor of the United States Senate, predicting that Judge Katzmann's confirmation would prove to be of historic significance.
Once in New York, and beginning in the early 2000s, Judge Katzmann not only worked superbly as a judge, sitting on numerous three-judge panels and writing hundreds of opinions and dissents, but taught an administrative law seminar at New York University School of Law. Awarded numerous awards and prizes for his superb work as a judge, he also won a Green Bag Award for excellent legal writing.
Meanwhile, in the 2000s, he noticed a huge increase in cases in his docket involving immigrants. From 2013 to 2020, he led the Second Circuit as Chief Judge, a position he relished, as he loved the courts. While Chief Judge, as well as hearing cases, he spearheaded a major initiative, Justice for All, a multi-pronged initiative to bring the courts closer to the communities they serve. Thanks to Justice for All, the federal courthouse now has a Learning Center, open to students. Numerous schoolchildren have had substantial conversations with judges and lawyers, have learned about important cases in their state, and have learned first-hand and up close how the federal judiciary works.
In 2014, he published his widely acclaimed book, Judging Statutes, which argues for judges' understanding of pertinent legislation activity and history when needing to decode muddily written statutes.
A core part of Judge Katzmann's lasting legacy is, however, his passionate advocacy for quality legal representation for immigrants. He helped change the narrative on immigrants facing deportation. Delivering the 2007 Orison S. Marden lecture at the New York City Bar Association, Judge Katzmann made a clarion call to law firms to increase their pro bono activity on behalf of low-income immigrants. His lecture cites the explosion of immigration cases in the Second Circuit in the previous years, and also deplores the often-shoddy work, with terrible consequences, of many lawyers representing indigent immigrant clients. His prescient lecture hit a nerve and galvanized many in New York's legal communities. Pro bono activity among law firms increased as a result, but there was also great interest in the topic and more to do. Judge Katzmann, adhering impeccably to Canon Four of the Code of Conduct for United States Judges, led an interdisciplinary study group–called the Study Group on Immigrant Representation–to study the crisis in immigrant representation and propose solutions. Specifically, the Study Group focused on the impact of access to quality counsel for immigrants as an issue affecting the administration of justice in our legal system, and examined in depth the challenges and potential solutions to close this access-to-justice gap for immigrants. Members of the Study Group met regularly, unpaid, on their own free time, to share findings, identify problems, and learn more. Detailed studies followed, showing the huge impact that a quality lawyer has on an immigrant facing any kind of court proceeding.
The work of the Study Group comprised people from academia, government, law firms, and nonprofits, and resulted in several path breaking initiatives, including, in 2014, the New York Immigrant Family Unity Program (NYIFUP), an initiative funded by New York City which became the nation's first government-funded system for public defender-style deportation defense.
In 2014, Judge Katzmann conceived of the Immigrant Justice Corps (IJC), the nation's first fellowship program dedicated to ensuring quality counsel for immigrants seeking citizenship, legal status, or other immigration benefits, and fighting detention and deportation. Initially funded by the Robin Hood Foundation, IJC is a nonprofit based in New York City funded by foundations and philanthropists.
IJC hires, trains, and pays the salaries of recent law school and college graduates to provide high-quality legal assistance and paralegal assistance to immigrants in need. To date the Justice Fellows, who are lawyers, and Community Fellows, who are recent college graduates, have served more than 80,000 immigrants and their families with a success rate of 93%. Many of the Fellows are children of immigrants or first-generation immigrants themselves who bring extraordinary linguistic and cultural competencies to their work. IJC now reaches immigrants in ten states, including families held in detention centers in Texas.
Judge Katzmann firmly believed that by populating the field of immigration law with cadres of quality lawyers, IJC would not only serve the administration of justice and raise the level of practice at all echelons of the immigration legal system, but would also create new leaders in the field. IJC and NYIFUP are among his legacies.
Judge Katzmann had a deep sense of empathy and was a mentor to many young lawyers. He was generous and selfless with his time, and humble beyond measure. He deflected praise and praised others. Among his core principles are access to justice, respect for fellow human beings, and love of learning and the United States. We grieve for this gentle giant, who died at age 68 from pancreatic cancer.
"Bob Katzmann was a unique person whose intellect, character, and love for all of humankind was unmatchable and we should all try to emulate his example," said William D. Zabel, Chair of IJC's Board.