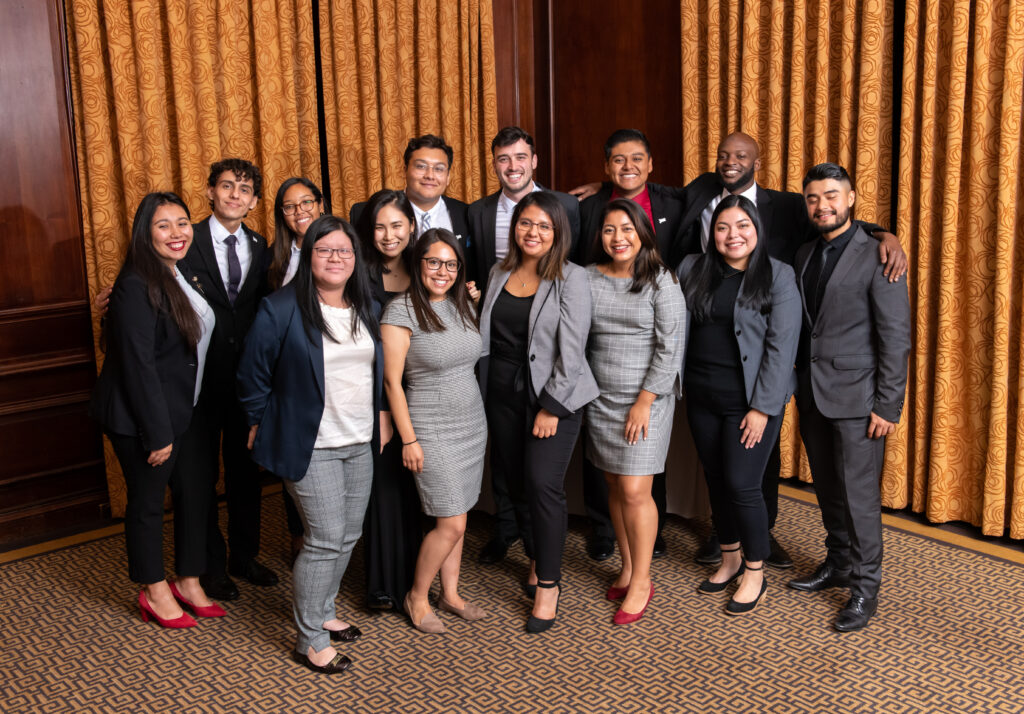 Community Fellowship
Two-year Community Fellowships are awarded to recent college graduates with the linguistic skills, passion, and cultural competency to work with diverse immigrant communities.
Defining our future.
Defending what's right.
Community Fellows become partially accredited representatives through the Department of Justice's Office of Legal Access Programs, allowing them to represent clients in legal matters before the Department of Homeland Security. They are placed in community-based organizations mostly in and around New York City as well as in other states. IJC Fellows are provided a full salary and benefits.
Community Fellows spend most days meeting with clients, conducting legal screenings and completing applications for immigration benefits. Throughout the fellowship, Community Fellows carry their own caseloads and provide a broad range of representation, with the type of assistance depending on their host organization.
Some of our Community Fellows are "in-placed" which means that they are employees of IJC and work four days a week at a community-based organization and one day a week at IJC headquarters where they receive supervision from IJC attorneys. Other Community Fellows are "out-placed" which means they become employees of their host organizations and receive supervision directly from legal staff at their host organizations.
Become a
Community Fellow
Immigrant Justice Corps seeks Fellows who are smart, compassionate, and passionate about justice for immigrants. Fellows must be dedicated to the idea of a fellowship program – you give us two years of hard work and we will make sure you are immersed in immigration law and prepared to help immigrants who otherwise cannot afford quality representation. Almost all IJC Fellows are fluent in a second language (including English).
Eligibility
Applicants may currently be enrolled in an undergraduate degree, so long as they will be graduating by the Spring of the Fellowship start year. For example, if you graduated in Spring 2020 you will be eligible to apply to the Class of 2020.
Applicants may have graduated from college either one or two years prior to the start of the Fellowship.
Application timeline and common questions about the Community Fellowships.
Learn about the experience and work of this year's Fellows.
Learn about our partners and potential placements.
Join an informational webinar to learn more about the Community Fellowship applications process.

Our Matching Process
Unlike other Fellowships, IJC recruits both Fellows and host organizations.
IJC matches selected Fellows with our partnering host organizations based on the applicant's experience and interest, gaps in services within the community, location preferences, and partnering host organizations' needs.
IJC News
Immigrant Justice Corps is thrilled to announce our seventh class of Community Fellows.
Read More
Application fee waivers secured by Community Fellows to date
Application fees saved on behalf of low-income clients
IJC Community Fellows' success rate in closed cases
Building Community
Each IJC Fellow forms a crucial link in an expansive web of advocates across the country. When you join IJC, you instantly become connected to your cohort, our staff, alumni, and host organizations.
Right to Counsel
The very existence of IJC has raised awareness of both the crisis of representation and the dramatic difference representation makes in immigration cases.
Training & Skills Development
IJC offers high quality, on-going training and skills development. Fellows foster lifelong professional connections during the program.
Expanding Capacity
IJC focuses on efficiently increasing representation by placing Fellows with host organizations that are leading non-profit legal services providers and community-based organizations.
Creating Access to Justice
IJC expands access to justice for underrepresented communities while advocating quality representation for these populations.